Here, you can take a look at a list of the best Gua Sha Chicago therapists, experts in the field of holistic medicine. If you are looking to book a session near you, this list might help make a choice. These are all top-rated practitioners who've been working in the field of Chinese medicine for years and are skilled in Gua Sha treatment.
But, before we get to our recommendation list, let's talk about Gua Sha in general. What can you expect from this treatment, and why should you try it. In the end, we will show you how we've selected these therapists to be a part of this list.
Gua Sha – What Is It About?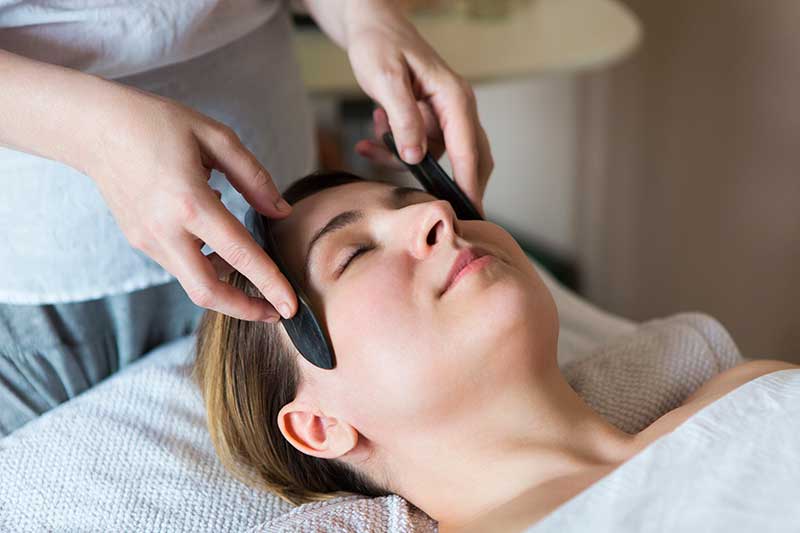 If you are a fan of holistic medicine, then you've come across Gua Sha. For the last two years, this technique has become more and more popular with celebrities like Elle Macpherson and Gwyneth Paltrow supposedly favoring the treatment.
This is an entirely natural scraping technique used to boost the blood circulation and massage certain areas of the skin with a smooth tool. It is meant to stimulate the soft tissues and allow for the body to help reenergize the Qi.
To use this method, experts apply a lot of oil on the skin and move with the smooth tool repeatedly over the area until they've massaged all the affected spots with a downward motion.
Why Should You Try Gua Sha?
If you feel any pain, discomfort, or tension in the muscles, shoulders, head, or neck, it's a good idea to try Gua Sha. This type of scrapping technique could prevent the onset of infections or diseases such as the flu or cold.
When practiced for a long time, this technique is showed to:
All of these benefits have been supported by research and show just how much potential this therapy can have.
The Top 4 Gua Sha Chicago Therapist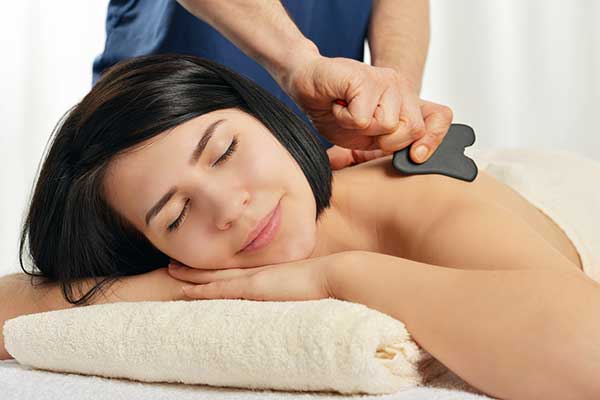 While you can practice Gua Sha on your own at home, it is ideal to be treated by an experienced Gua Sha experts to ensure that you enjoy the maximum benefit.
Here is our list of the best Gua Sha therapists in Chicago:
Dr. Zhao – Chicago InHealth Center
Eric Rothgeb – Prana Jaya Wellness Center
Lok-Kwan Cheng – Inner Gate Therapeutics
Laurie Walsh – Insight EAP LLC
1.   Dr. Zhao – Chicago InHealth Center
The Chicago InHelath Center is a licensed establishment for Chiropractic treatments, including moxa and Gua Sha. With years of clinical experience, Dr. Iris Zhao has managed to perfect her skills and knowledge in Chinese traditional medicine. She can help provide adequate treatment for insomnia, anxiety, headaches, chronic or acute pains, and more.
2.   Eric Rothgeb  – Prana Jaya Wellness Center
With more than 15 years of experience, Eric Rothgeb welcomes anyone at Prana Jaya, looking for experienced Gua Sha practitioners. He specializes in eastern medicine and massage treatments to treat both emotional and physical problems. With Gua Sha, you can reduce muscle aches, chronic, and acute pain.
Mr. Cheng is an experienced acupuncturist who specializes in Neuro-Acupuncture for patients recovering from brain surgery or stroke. For the last ten years, he has been using Gua Sha and acupuncture techniques to stimulate specific brain cells in the body and help restore some of the abilities the brain has lost after surgery. The long-term effects of these treatments can prove immensely helpful, especially for those suffering from chronic pain.
4.   Laurie Walsh – Insight EAP LLC
The Chief Executive and founder of Insight EAP LLC, Laurie Walsh, has been in the acupuncturist treatment industry for more than 15 years and 18 years working with mental health treatments. She can help evaluate and treat anxiety, depression, and stress-related problems with the help of the ancient Chinese therapy. She specializes in Gua Sha treatment, Nutritional Counseling, and various other holistic treatment techniques.
How Did We Choose These Gua Sha therapists?
The goal is to connect people with trained experts they can contact locally. We've selected the Therapist who've met the following guidelines:
Years of experience
Credibility
Reputation
Professionalism
After a careful analysis, we've decided that all the experts on this list have plenty of experience in their field of work. They've had adequate education and time to perfect their craft. They all have their licenses, award, and credentials that assure patients will get the best experience.
Because of how many years they've been active, their reputation precedes them. They work in certified establishments, are reliable, and respect their clients and line of work. Therefore, they are a trustworthy pick to be a part of this list.
Conclusion
This ancient Chinese massage technique has a rich history. Even though it just recently became a popular trend, it has been used for much longer than people realize. Plus, it has plenty of potential positive effects for both your physical and emotional well-being. As long as you find an experienced Gua Sha Chicago practitioner to do the therapy, you are good to go.
Now, when it comes to finding a Gua Sha Chicago expert, it's much easier than you think. There are plenty situated in Chicago that offers excellent services. Hopefully, this list made it easier for you to decide which one would suit you best.
References
https://www.usmagazine.com/stylish/pictures/gua-sha-the-skincare-practice-celebrities-love/
https://www.healthline.com/health/gua-sha
https://www.ncbi.nlm.nih.gov/pubmed/17971671
https://www.ncbi.nlm.nih.gov/pmc/articles/PMC2827462/
https://www.ncbi.nlm.nih.gov/pubmed/27760084
https://www.ncbi.nlm.nih.gov/pmc/articles/PMC3875019/
https://www.healthprofs.com/us/Therapist/gua-sha/il/chicago